DGM is performed to identify subsurface anomalies that may result from buried MEC.  EA uses these data to characterize the nature and extent of MEC during remedial investigations or guide follow-on intrusive excavations during removal actions.
On all Military Munitions Response Program projects with DGM surveys, we utilize the technical guidance provided by U.S. Army Corps of Engineers (USACE) Engineer Manual 200-1-15 Military Munitions Response Action,  the Munitions Response-QAPP Template Module 1, and the Advanced Geophysical Classification-QAPP Template.  Our staff are highly capable of performing DGM using a variety of systems that include electromagnetic sensors (Geonics EM61-MK2), and magnetic sensors (Geometrics magnetometers and gradiometers),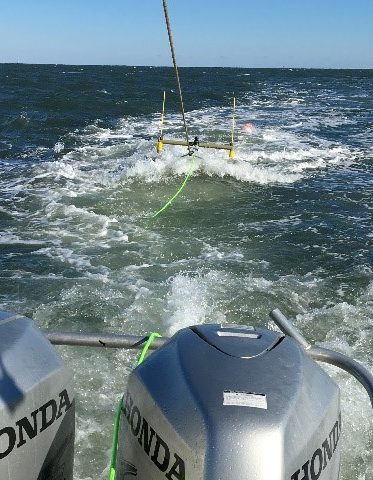 combined with real-time kinematic (RTK) Global Positioning Systems (GPS) in relatively open areas or fiducial-based positioning in areas with heavy tree canopy.  We can deploy these systems on a variety of platforms that include land-based platforms (e.g., wheel-based carts, person-portable, towed arrays), marine platforms (tow-fish, sleds), and airborne platforms (helicopters).  During marine surveys, EA often supplements the geophysical data from either electromagnetic or magnetometer sensors with side-scan sonar, bathymetric, and sub-bottom profile sensors combined with RTK GPS and underwater ultra-short baseline systems.  Our geophysicists are expert users of the industry-standard DGM processing and analysis software, Geosoft's Oasis Montaj UX‑Detect mapping package.  For quality control, EA uses the Geophysical System Verification process that includes an instrument verification strip and a blind seeding program to ensure our data are of the highest quality and meet all project data quality objectives.
EA is currently saving our clients significant time and effort and reducing ecological damage and impacts to the public during intrusive investigations by utilizing Advanced Geophysical Classification methods (Geometrics Metalmapper 2×2) to further characterize DGM anomalies and eliminate the need to excavate anomalies that are not related to MEC.