Recent advances in drone technology have revolutionized how we view the world and collect data. However, most private sector, agencies, and nonprofits continue to utilize traditional methods of point-data from loggers for assessing stream channels and identifying restoration opportunities. Many are unaware of the expansive cost savings and efficiency drones can provide while offering high quality geospatial data. For example, thermal drone mapping can provide an efficient way to collect temperature data especially over larger areas, which can then be used to identify water coming from subsurface sources (e.g., pipes, groundwater upwellings) using the inherent thermal variation.
Thermal cameras detect the infrared radiation emitted by objects, including variations in surface temperature. The camera then converts that infrared data into an electronic image that shows the apparent surface temperature of the object being measured. When used to assess stream channels, the data can identify thermal variations in the surface of the water, which can indicate various thermal inputs into the river, including discharge pipes, stormwater runoff, or groundwater upwellings. Drone flights over a stream channel facilitate capture of an unprecedented amount of detailed thermal data along the entire length of the channel. Using the resulting maps to accurately identify thermal anomalies, engineers and scientists can gain a better understanding of the hydrological dynamics of surface water interfaces, or even track potential pollution sources that can inform targeted remedial and restoration strategies. The data provide an instant visualization not available from conventional loggers without subjective interpolation.
---
EA was recently awarded a research grant to utilize unoccupied aircraft systems (UAS) (i.e., drones) as a rapid assessment tool to identify and prioritize sites for habitat and water quality protection, enhancement, and monitoring in the Lake Champlain Basin. EA is leading the cutting-edge project with support from the University of Vermont, and grant partners at the New York State Department of Environmental Conservation, Vermont Fish and Wildlife Department, and U.S. Fish and Wildlife Service.
---
Use of drones also provides a non-intrusive and efficient means of collecting high-resolution data over large areas. The ability to survey stream channels from an aerial perspective allows for a comprehensive assessment of the entire system, including hard-to-reach or inaccessible areas. Comparatively, it would take numerous data loggers and manhours to accurately collect the same amount of data that a drone can collect in minutes.
As part of a pilot project, EA scientists and drone pilots worked together to collect ­­­data along a privately owned section of Pine Creek in Pennsylvania. The goal was to study upwellings and spring seeps to aid in restoration decisions. A series of drone flights, ground-truthed by data loggers, were completed to identify target locations and study their influence on the channel. The resulting data and video clearly identify upwelling along the stream channel, along with the size and extent of the thermal anomaly and the mixing zone.
For more information, visit EA's esri Storymap, developed to chronicle the study.
To further test thermal drone mapping, EA's field team studied a second area, both larger and more remote, in northwestern Maine on the Magalloway River, where knowledge of the watershed's thermal dynamics was very limited. The site is a known wild native Brook Trout stronghold. Using a drone with a thermal camera, they successfully located wetlands and other cold-water influences previously unknown, and which would have taken years to identify with traditional ground surveys and logger deployments. During this deployment, EA staff were also able not only to identify thermal anomalies in the river and wetlands, but simultaneously, the drone could pinpoint individual groundwater seeps generating the thermal anomalies.
The combined success of these initial pilot studies confirmed the precision, accuracy, quality, and cost-saving efficiency of the use of drones equipped with thermal cameras as a rapid assessment tool in the development of restoration strategies. Lessons from these pilot projects helped refine the field data collection process, such as optimal flight elevation, speed, staff efficiency, and potential impacts of terrain and vegetation on control communication. EA is championing the use of this thermal technology in the fields of water quality, hydropower, remediation, nonpoint source pollution, fisheries science, and ecosystem restoration.
---
For more information, contact:
Sal DeCarli
p: 401-244-5485
Email Sal
×
Contact Us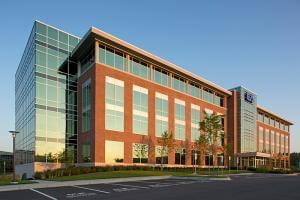 ×
Alaska
Arkansas
California
Colorado
Delaware
Georgia
Guam
Hawaii
Illinois
Maryland
Michigan
Montana
Nebraska
New Mexico
New York
Rhode Island
Texas
Virginia
Washington
EA Satellite Residential locations (Contact 1-800-777-9750)